Merino base-layers
Altai is a line of base-layers in merino wool. They behave like a second skin and are exceptionally pleasant and comfortable to wear every day and for any sport. They are breathable, durable, thermoregulating and antibacterial.
Experience the incredible comfort of extra fine merino wool in an all natural garment that is made to stay close to you whatever you do.
Flatlock stitching : helps to reduce chafing.
Naturally antibacterial : natural merino wool helps your garment stay fresh and odour free.
High wicking : actively wicks moisture away from the skin, keeping you dry and comfortable.
Breathable : highly breathable fabric lets moisture out, making sure you stay dry on the inside.
Lightweight : great for travelling, walking and more. No added bulk.
Easy care and quick drying : hand or machine washable on a 30 degree wool cycle (wool detergent and no spining) for easy care.
Find your match in the Altai lineup
Altai base layers are made in ribbing pattern which makes them very elastic in all directions per construction of the knit. They naturally follow body curves and can fit well on different sizes. Their length has been designed to cover the lower back even while doing demanding physical activities.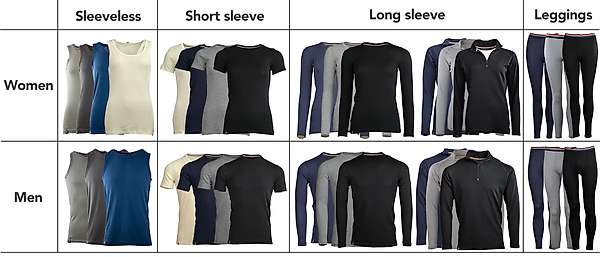 Discover Altai advantages
Merino wool is the most effective natural form of all-weather protection while being the finest and softest. Altai base layers are made of 100% extra fine merino wool which render them incredibly soft like a second skin.
In sports as in everyday use, Altai merino base layers keep your body cooler (thermoregulation) while absorbing and evacuating excess of moisture (breathable). Outside, they offer an excellent natural protection from the sun and absorbs UV radiations (UV protection). As you wear these base layers, unpleasant smell caused when sweat degrades is blocked away by merino fibers (antibacterial). They stay fresh much longer and can be worn many days in a row without problems. They are stains resistant and are machine washable on wool program (machine washable). They naturally dry quickly and must not be put in a drier.
Altai base layers are made using certified yarns
Certification OEKO-TEX® STANDARD 100
Altai base layers are made using extra fine merino wool yarns that are certified Oeko-Tex Standard 100. The sowing threads are also certified. That means all components are guaranteed free from any harmful substances for human health. This is the guarantee you can enjoy your base layer fully and safely.
Ethical merino wool at its best
Merino wool is inherently natural, biodegradable, renewable and breathable. The merino wool yarn used in Altai is also carefully selected to only originate from ethically raised sheep flocks.

Wool exclusively sourced from ethically raised merino sheep
Gear up truly and enjoy !
Made in the heart of Eastern Europe
Altai base layers are proudly made in Serbia by Ecovolve
Altai base layers are made in Serbia to the highest standard using high quality extra fine merino yarn from Italy. From knitting and washing to manufacturing and packaging, all steps to make the best possible garment are done with passion and love in Serbia.
Special Offer for PSS (Planinarski Savez Srbije) members
Get 10% off from all clothing products.
See how it works