Wool duvets
Discover the comfort of pure new wool duvets that breathe in harmony with your body.
100% natural duvets, healthy and durable, that provide sleeping comfort only wool is able to bring.
Unique qualities for better sleep
3 models for 3 levels of comfort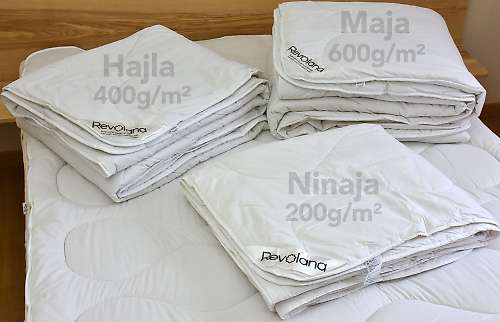 The duvet filling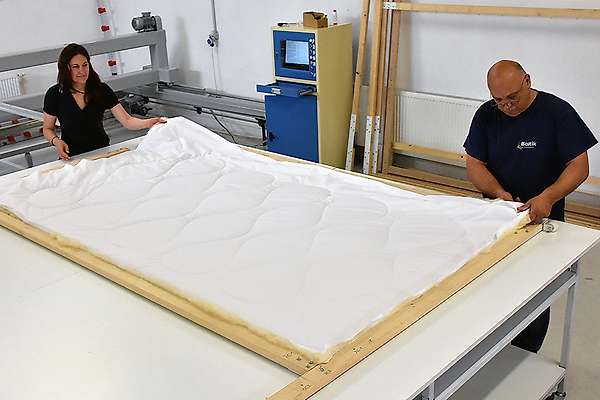 Duvets are filled with fluffy woolen wadding made with pure new wool from Serbia. There are quilted on frame for perfect result that will last a lifetime.
Our wool comes from mid-mountain sheep from southern Serbia. It is puffing and curly : ideal to make duvets. The wool is scoured locally with a non-calcareous spring water in a machine with successive baths which ensure a slow and very efficient scouring. The resulting wool has no smell and is beautiful.
After scouring, wool is transformed in the fluffy woolen wadding found in the duvets. It is a mechanical process done with 2 successive carders. Only the long and best wool fibers are kept to make wadding of exceptional quality.
Duvets are quilted one by one on the right dimensions using a custom frame. This is the best method to work with the delicate woolen wadding and to guarantee the highest quality.
Each layer of woolen wadding is around 200g/m². We propose duvets with 1 (Ninaja), 2 (Hajla) or 3 layers (Maja) depending on the level of comfort that is requested.
Ethical and fair wool from local producers

Wool is sourced from small sheep flocks ethically raised in southern Serbia
Wool transformed locally and traditionally

Wool is scoured in Serbia using water from one of the least calcareous river in Europe. Water purity means better scouring.
The duvet cover and care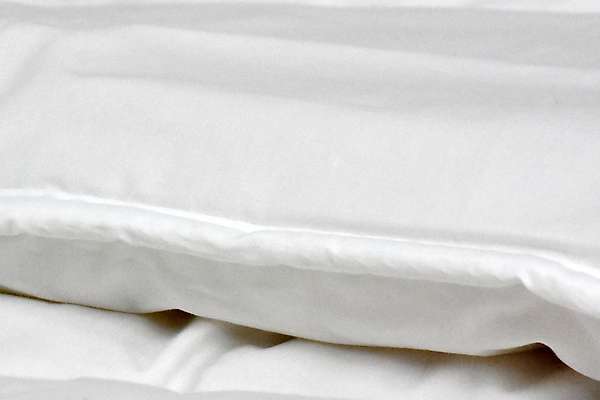 The duvet cover is made from fine organic cotton twill fabric with a high tread count (240TC). It is lightweight and dense, doesn't wrinkle and doesn't make noise when moved.
The cover is made from a certified GOTS twill fabric that is lightweight (140g/m²) with a high thread count (240TC). It is made from a fine organic cotton yarn. It is luxurious and silky to the touch. With that level of fabric quality, the cover is very pleasant and is made to last. The twill wave is not crispy and does not make noise when move.
The duvet edge is finished with an organic cotton piping made from the same fabric as the cover. It completely secures the edge by sewing together the peripheral wool and fabric. It make an elegant finish that is completely stable in time.
Wool breathes and take care of itself. Wool duvets don't need washing every year like those in synthetic material. On the contrary, they can be used many years without any special care but regular airing. They must be protected with a duvet cover and possibly an additional flat sheet. To remove a stain, it is possible to wash it locally with soapy water or with soda bicarbonate. For an integral wash, it can be done by hand using wool detergent or given to the dry cleaning (ecological if possible).
Make the choice of organic cotton
Certification Global Organic Textile Standard (GOTS)
Revolana duvets are made with GOTS certified high quality fabrics. Conventional cotton is the most polluting crop in the world and is almost all GMO. GOTS certifies cotton is organic and its processing is not using toxic substances while being socially responsible. Organic cotton improves soil health, water quality and biodiversity. Using GOTS fabrics protect you and everybody else.

Organic cotton is not genetically modified and does not contain any pesticides. It respects people and nature.
Beautiful packaging in organic cotton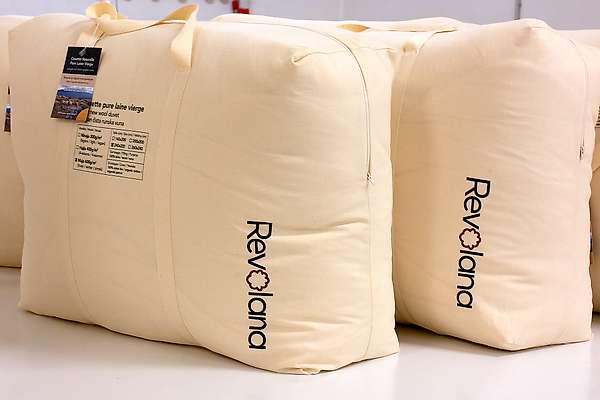 Organic, breathable and reusable packaging
In 2020, Ecovolve decided to suppress the use of polyethylene in the packaging of pillows and duvets. The new packaging is made in the same workshop as the duvet using an undyed and unbleached GOTS certified fabric. It is personalized using a transfer and makes use of a YKK zipper for the opening.
That bag is made to last and be reused. It will be fantastic to keep the duvet protected when it is not used and it can also be used to store other bulky items when it is not needed for the duvet.
Small scale handcrafted production

Revolana duvets are handcrafted in Belgrade with the highest standards of quality.
Discover the work behind Revolana duvets
Made in the heart of Eastern Europe
Revolana duvets are proudly made in Serbia by Ecovolve
Revolana duvets are made in Serbia using high quality combed wool from sheep raised in small herds in Southern Serbia. The wool is scoured, carded and combed in Serbia to obtain lightweight aerated wadding of exceptional quality.
Articles related to Wool duvets
Special Offer for PSS (Planinarski Savez Srbije) members
Get 10% off from all clothing products.
See how it works