Wool duvets
Discover the comfort of pure new wool duvets that breathe in harmony with your body.
100% natural duvets, healthy and durable, that provide sleeping comfort only wool is able to bring.
Unique qualities for better sleep
3 models for 3 levels of comfort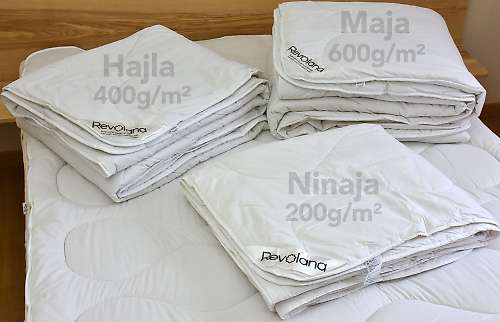 Small scale handcrafted production

Revolana duvets are handcrafted in Belgrade with the highest standards of quality.
Ethical and fair wool from local producers

Wool is sourced from small sheep flocks ethically raised in southern Serbia
Wool transformed locally and traditionally

Wool is scoured in Serbia using water from one of the least calcareous river in Europe. Water purity means better scouring.
Make the choice of organic cotton
Certification Global Organic Textile Standard (GOTS)
Revolana duvets are made with GOTS certified high quality fabrics. Conventional cotton is the most polluting crop in the world and is almost all GMO. GOTS certifies cotton is organic and its processing is not using toxic substances while being socially responsible. Organic cotton improves soil health, water quality and biodiversity. Using GOTS fabrics protect you and everybody else.

Organic cotton is not genetically modified and does not contain any pesticides. It respects people and nature.
Discover the work behind Revolana duvets
Made in the heart of Eastern Europe
Revolana duvets are proudly made in Serbia by Ecovolve
Revolana duvets are made in Serbia using high quality combed wool from sheep raised in small herds in Southern Serbia. The wool is scoured, carded and combed in Serbia to obtain lightweight aerated wadding of exceptional quality.
Articles related to Wool duvets
Special Offer for PSS (Planinarski Savez Srbije) members
Get 10% off from all clothing products.
See how it works