The international furniture fair in Belgrade started last Tuesday and continues until Sunday 11 November. Ecovolve is present for the launch and presentation of Ott System and Revolana in Serbia. The stand with its elegant and refined design was noticed and the 3 beds of our partners from Alsace made for this occasion triggered interest.
A stand to be noticed
Ecovolve's stand contrasts sharply with the rest of the exhibitors in Hall 4. The market for beds in Serbia is still largely dominated by chemical bedding with or without springs. With its sleek design, and the exclusive presence of natural materials, the presentation of the ergonomic bedding system Ott System is noticeable.

A stand made in Serbia
The entire stand was made of wood by a craftsman from Belgrade. The walls are dressed up with pure linen sheets from the Revolana range. The table and stools in solid ash were made by the same craftsman as the stand displays for duvets and pillows.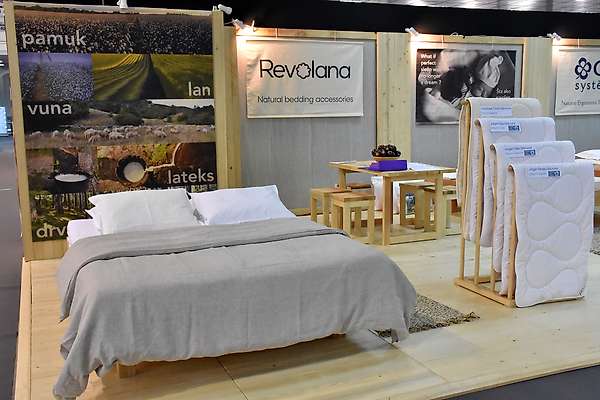 Sacker&Massé beds in Belgrade
Ott System as it is proposed by Ecovolve in Serbia is entirely manufactured locally. Solid wood beds without metal will be made in Serbia. However, the time of setting up the manufacturing did not allow to manufacture them in time for the show. This is why Ecovolve called on its partners Sacker and Massé from Alsace to make the 3 beds presented at the fair.
Ecovolve is present in Hall 4 on stand 4059 until November 11th.