What is Biodom ?
Biodom is a brand for the distribution of organic and natural products. Biodom only distributes products that respect the key conditions expressed below. When coming to Biodom, there is no need to check the labels or the small prints. Everything that is proposed has been carefully selected. Biodom offers products that we would use ourselves and for our family.
Clothing : only natural fiber such as wool, linen and organic cotton. Cotton in any form must be certified organic (generally certified GOTS). The only products where synthetic fibers are allowed are socks for reason of durability. Yet the amount of synthetic fibers must be minimal.
Sleep and home textiles : as for clothing, only natural fiber such as wool, linen and organic cotton. Beds are made of full wood, metal free finished with natural oil. Slat systems are made from full wood slats with 100% natural latex. Mattresses are made from 100% natural latex. Here is a non exhaustive list of banished things : particle boards, melamine, veneered and plywood, glued multilayered slats, varnishes, any synthetic foams (such as memory foam).
Food : 100% certified organic. We may distribute organic food that is not certified if we can check the production by ourselves and that there is a good reason why it is not certified.
Health&Beauty : This is the sector where we have to be the most careful. We select products made from natural ingredients, not tested on animals and free of genetically modified ingredients, controversial chemicals, parabens, phthalates, synthetic colors, synthetic oils or synthetic fragrances. Some of the products might be certified but the cosmetic organic certifications are still not very widespread in Serbia.
The journey behind Biodom
Biodom is the result of much experience and reflections. It took a long journey to make it. Here is the small story to explain how this all came about.
Beodom – moving to Serbia
Everything started in 2006, when Milena Gojković-Mestre and Lionel Mestre decided to leave the quite comfort of their life near Geneva to start a new adventure in Serbia. They started entrepreneurship the hard way by creating a company to build ecological low-energy buildings. Company Beodom (with the letter e) was born. Between 2007 and 2011, it built the 2 first low-energy buildings in Serbia. The buildings offered natural thermal insulation with solar and geothermal energy. The project was awarded in 2009. However, the crisis that unfolded in 2008 made construction a complicated business. That decided Milena and Lionel to start a new venture back in France.
Ecovolve France and Revolana – moving back to France
Being committed to sustainable development and to Serbia, they decided to create in France the company Ecovolve for the manufacturing of natural bedding accessories. Confection was done in Serbia and additional work was done in France using wool transformed in Belgium. So the brand Revolana was born in 2012 and sales started in France.
Ecovolve Serbia and ergonomic bedding – moving back to Serbia
The discovery of producers and transformers of wool in Serbia made possible to use Serbian wool for all Revolana products. Hence in 2015, company Ecovolve was created in Serbia to handle the complete production of Revolana products. After some decisive encounters, Milena and Lionel launched a new program offering a complete ergonomic natural bedding solution. With their partners they created the brand Ott Système and handled the manufacturing of all parts of the system in Serbia. As the manufacturing in Serbia grew, it became self evident that there was more work to be done there than in France. That is what pushed Milena and Lionel to move back to Serbia in 2018.
Tigil – follow your intuition
The move to Serbia was also led by the desire to realize a project that had been in the back of their head for a long time : affordable natural clothing. Indeed, they realized there was a growing gap between what the fashion industry offered and the expectations of regular people. That led to the creation of the new brand Tigil for the manufacturing of natural clothing in Serbia. To bootstrap the project, they started with socks and accessories that could be distributed in organic stores in France. The goal being the direct distribution of a complete line of beautiful natural clothes. In 2019, at this time of writing, that goal is unfolding.
Biodom – connecting the dots
Being manufacturer of a wide range of products (Revolana and Tigil), all of them made in Serbia, it was necessary to have a platform that could enable direct sales to clients in Serbia. Hence the concept of Biodom which is first and foremost a webshop with a brick and mortar companion shop. Of course, Biodom is not limited to offer products from Ecovolve. On the contrary, it will open up to many other items that are organic and/or natural and that respects the same ethic that brought Biodom to life. We do plan to sell natural cosmetics, organic food and other household items. Stay tuned as Biodom takes shape and grows.
Brands from Ecovolve
Since 2012, Revolana offers a complete range of healthy and natural bedding solutions. Revolana only uses natural materials to make pillows, duvets, bedding and everything needed for being cosy in the bed.
Revolana web site
Tigil stands for the incomparable pleasure of dressing with noble and natural materials. Healthy, breathable, without harmful products, they offer sustainable comfort and well being. Tigil stands for offering an unique range of natural clothing with simple lines. Follow you intuition and you will find the Tigil way…
Tigil web site
About the creators of Biodom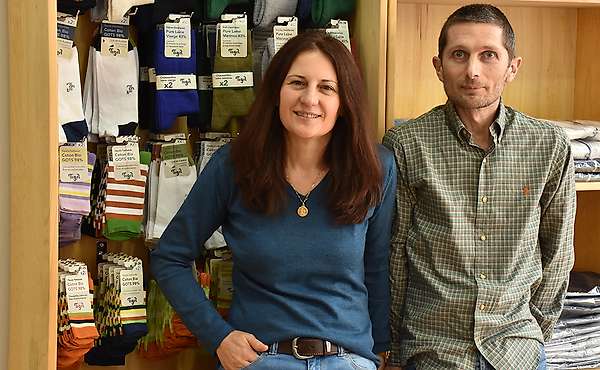 Biodom has been created by Milena Gojković and Lionel Mestre.
Milena Gojković holds a Bachelor's Degree in Business Administration and a Master's degree in Information Technology. She has an international experience in IT having worked in Bosnia and Herzegovina, Serbia, Canada, France and Switzerland. She is director of the company Ecovolve in Serbia and manages the day to day operations.
Lionel Mestre holds a Master's degree in Information Technology. Prior entrepreneurship, he worked over 10 years in IT in several countries such as UK, South Africa, Germany, Canada, France and Switzerland. He is director of the company Ecovolve in France and manages online and offline communication of all companies and brands.
The two met in Canada in 1999 and started working together for themselves in 2006 as it has been told above.