Hoteli & Restorani is a B2B magazine distributed in over 3,000 addresses of exclusive catering facilities in Belgrade, Novi Sad, as well as in other major cities and tourist centers (spa, mountains) in Serbia. Ecovolve has been featured in the edition 11th as it offers the first natural bedding solution in Serbia that is particularly well suited as a complete superior solution for hotels.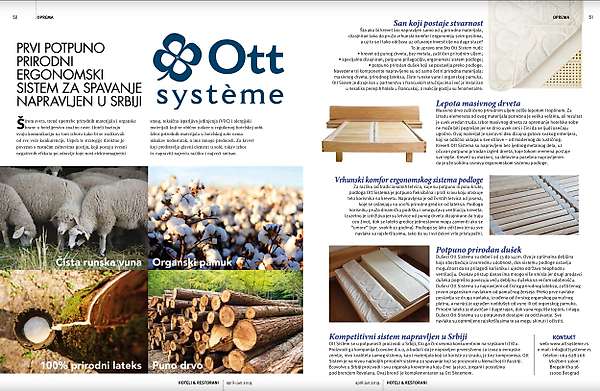 Ott Système : the first all-natural ergonomic bed system made in Serbia
All over the world, the trend to use natural materials and offer organic food is strongly growing in the hotel industry. Some hotels are even basing their communication on that choice in order to differentiate themselves from the crowded pack. The success of that strategy is directly linked to the growing demand of guests who become aware of the negative health effects of electro-magnetic pollution, toxic Volatile Organic Compounds (VOC) and allergenic materials, usually found in a regular hotel room.
The choice of natural materials in the hotel room has no drawback and many advantages. The bed being the main piece of equipment in the room, it is also the one for which that choice will make the biggest difference and the greater sense.
Let's have a dream
What if a bed could be made out of 4 natural materials only, provides superior comfort and ergonomics to all guests, be easy to maintain while preserving investment in the long run.
That is exactly what Ott System is offering:
A metal free solid wood bed frame with natural oil finish
A specially designed, fully customizable ergonomic slat system
An all-natural mattress made for the slat system
These 3 components are made with only 4 natural materials: solid wood, natural latex, pure new wool and organic cotton.
Ott System has been designed in partnership with French specialists and has already been installed in some great hotels in France. The feedback has been phenomenal.
The beauty of solid wood
Let's not hide it, solid wood with natural oil finish is just beautiful. It does require strong skills to be made but the result is always worth the effort. The choice of solid wood to equip the bedroom cannot be wrong as wood is always appreciated and make people feel good. It is an integral part of the interior design that can go along with all sort of designs from modern to rustic.
Ott System beds are made without any metal part and with their distinctive natural look that lets wood breath and bonifies over time. They are sturdy with features made to provide a solid base to the ergonomic slat system.
The superior comfort of the ergonomic slat system
Unlike traditional slat systems that are either completely rigid or semi rigid, Ott System slat system is completely flexible and follows the curve printed by the body on the bed. It is made of solid ash wood slats that rest on 100% natural latex beams. It provides dynamic support and ventilation to the sleeper.
It is extremely durable as solid wood slats are designed to last a lifetime and as the latex beams can easily be replaced once they worn out (every 10 years). The slat system is entirely serviceable as covers are all equipped with zippers to access the latex beams when needed.
The all-natural mattress
Ott System mattresses are 13 to 14cm thick. This is just right to provide outstanding comfort while letting the slat system work and maintain the necessary inner ventilation. That approach makes a lot of sense nowadays as other mattresses vendors wrongfully link greater thickness to greater comfort.
Ott System mattresses are made of a pure natural latex core protected by a first organic cotton cover. The two are placed in a second cover made of a sturdy organic cotton canvas that is quilted either with wool or organic cotton felt.
Natural latex is resilient and long lasting while wool regulates heat and humidity. Ott System mattresses are fully serviceable. All covers are equipped with zippers and can be removed and cleaned.
A competitive system made in Serbia
Ott System is fully made in Serbia by the company Ecovolve doo. This makes it very competitive on the Serbian market. Being primarily made for export to European countries, the level of quality of the system as of the materials used to make it is without compromise. Ott System is at the level of best natural bed systems found in Germany or Austria.
Ecovolve also manufactures in Serbia a range of organic bedding accessories such as pillows, quilted covers and beddings under the brand Revolana. This is complementary to Ott System.