Gradac monastery is yet another beautiful restored monastery in a fabulous natural setting. It is located at the border of the Golija natural park surrounded by luxurious vegetation and hills. It is inviting to take a break and enjoy the scenery. The monastery was built from 1277 to 1282 by Helen of Anjou, the wife of king Uroš I. It was devastated and abandoned for centuries before to be finally rebuilt during 1963–1975.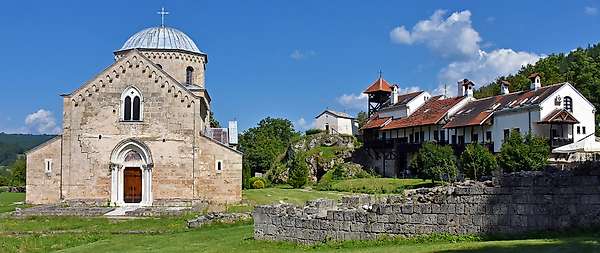 Gradac Monastery is the endowment of Queen Helen of Anjou, built from 1277 to 1282, during the reign of her son King Dragutin. It is located in Central Serbia, on the slopes of Golija Mountain.
The name of the place Gradac existed even before the founding of the monastery. It is probable that this name was connected with the Byzantine fortress from the 6th century, which was located on a hill above the monastery and at the foot of which was a church. The foundations of this small early Christian church have been preserved to this day in front of the Church of the Mother of God in Gradac.
During the Turkish rule, the monastery was mostly without monks and then without a roof covering on the church that was taken away. During 1963-1975, a complete reconstruction of the main church was carried out and the interior of the temple was largely preserved. The construction of the lodgings began in 1982 and the monastery was revived. Today, the monastery represents an immovable cultural good as a cultural monument of exceptional importance.
It is a rewarding stop over if traveling near by.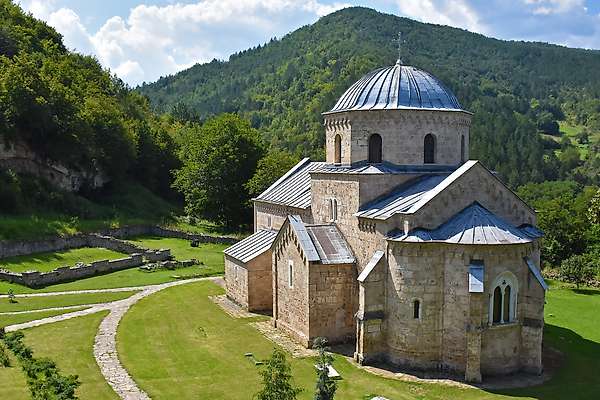 All photos by Lionel Mestre (All rights reserved).